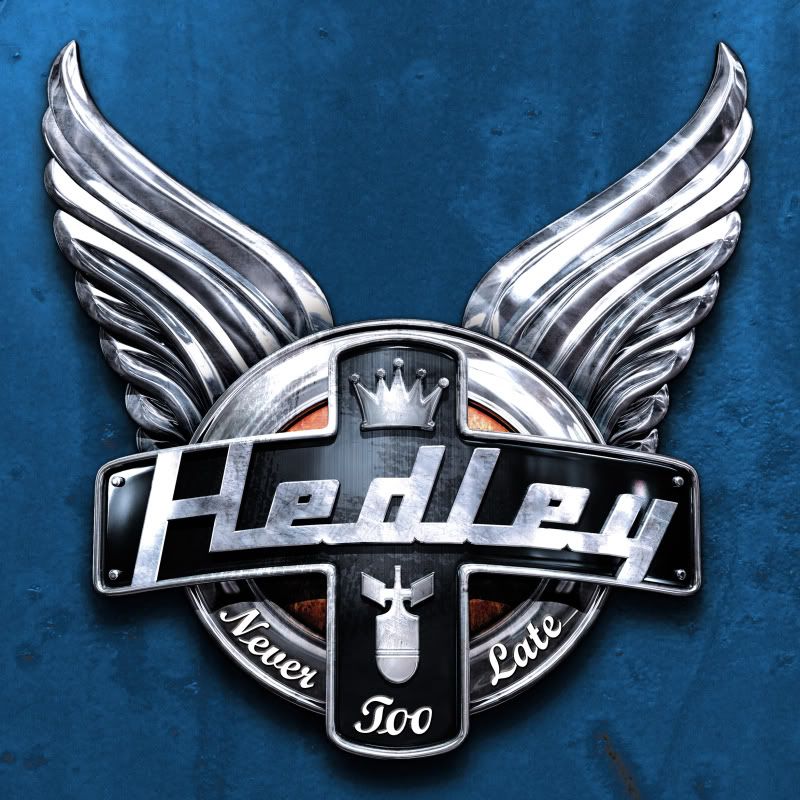 Fontana International is poised to reveal Canada's best kept music secret to fans stateside. On May 19th, Canadian Pop/Rock sensation, HEDLEY, will unleash their US exclusive masterpiece, NEVER TOO LATE. This US debut includes, among others, HEDLEY's 7 consecutive #1 singles from their two double platinum Canadian releases: HEDLEY (2005) and FAMOUS LAST WORDS (2007).The majority of the songs on NEVER TOO LATE were produced by Greig Nori (Sum 41); Brian Howes (Hinder, Daughtry) produced "321," "On My Own," and "Trip" and GGGarth Richardson (Rage Against The Machine, Rise Against, Red Hot Chili Peppers) takes production credit for "Gunnin'."

In three short years, HEDLEY has reached superstar status in Canada:
two double platinum albums, seven consecutive #1 singles, and seven #1 videos
#2 on Nielsen's 2008 year end BDS Top 10 Artist Airplay with 88,000 detections- just behind Rihanna with 91,000, and surpassing other Canadian superstars such as Nickelback and Avril Lavigne
Swept 2009 Radio Music Awards: Song Of The Year, Chart Topper & Fan's Choice Awards and are nominated nominated for 3 2009 JUNO Awards: Album of the Year, Songwriter of the Year, and Fan Choice Award. Won in all major categories at the Much Music Video Awards in 2008
Supported BON JOVI, the 3rd highest grossing touring band (following Rolling Stones and U2) , on a 12-date fall 2007 stadium tour, putting them in front of 200,000 people. Extensive headline and support touring with Nickelback, Sum 41, Yellowcard, 3 Days Grace, Finger Eleven, and many others
Nearly 1.5 million MySpace hits, more than 2.5 million song plays, and millions of YouTube hits and views
The HEDLEY story has ignited in the US virally and as a result of what started as unsolicited airplay at US stations along the Canadian border who recognized the demand for HEDLEY stateside.
"Old School," HEDLEY's 1st single from NEVER TOO LATE impacts at US POP & HOT AC radio 3/30. "Old School" has over 1 million views on YouTube, not of a music video, but simply scrolling lyrics to the song fast becoming the American prom and graduation soundtrack for 2009.

mvremix.com/rock_blogs/2009/03/19/hedley-releases-never-too-late-cd-album-on-may-19/ & www.confrontmagazine.com/web/2009/03/25/hedley-never-too-late-contest/


The Boys Will Be There To Present & Walk The Red Carpet So Don't Forget To Watch.
And As I Am Sure We Have Already Known The Boys Are Up For These Categories:




Fan Choice
Celine Dion
Feist
Hedley
Nickelback
The Lost Fingers

Album of the Year
Hedley - "Famous Last Words"
The Lost Fingers - "Lost In The 80's"
Nickelback - "Dark Horse"
Simple Plan - "Simple Plan"
Sylvain Cossette - "70's Volume 2"

Songwriter of Year
Hedley with Co-Songwriters: Dave Genn, Greg Nori - "Old School", "For The Nights I Can't Remember", and "Never Too Late"
Alanis Morissette
City & Colour - Songwriter Dallas Green
Gordie Sampson with Co-Songwriters Whitney Duncan, John Shanks, Hillary Lindsey, Steve McEwan, Michael Logan
The Midway State - Songwriter Nathan Ferraro

// THEY ARE SO GOING TO WIN //.